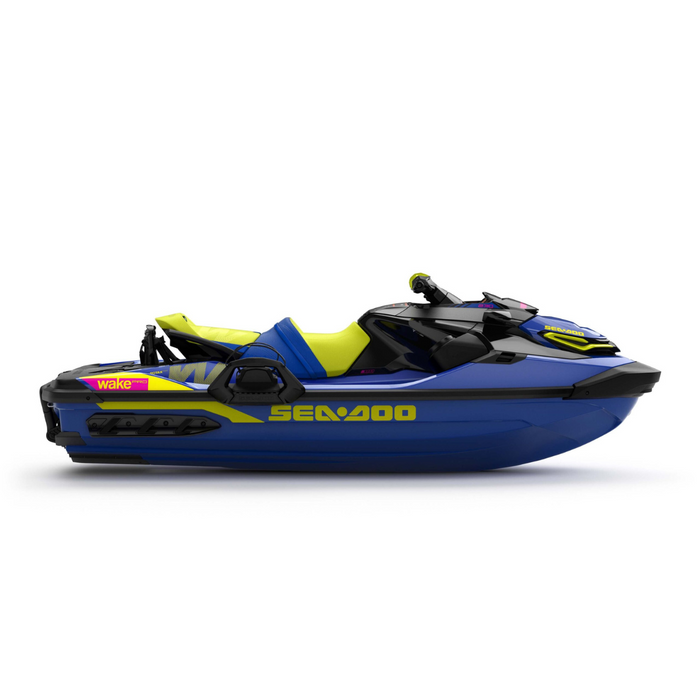 Sea Doo Wake Pro 230
 Sea Doo Wakepro 230
Wake addition with pulling features, stereo and Cruise and lots of turbo power 
| | | | | | | | |
| --- | --- | --- | --- | --- | --- | --- | --- |
| | Day 1 | Day 2 | Day 3 | Day 4 | Day 5  | Day 6 | 7 days + |
| | | | | | | | |
| --- | --- | --- | --- | --- | --- | --- | --- |
| Single  | $270 | $260 | $255 | $255 | $252 | $247 | $242 |
| | | | | | | | |
| --- | --- | --- | --- | --- | --- | --- | --- |
| Pair | $540 | $520 | $510 | $510 | $505 | $485 | $495 |
135.9
49.4
Tandum trailer holds pair - 2 inch ball
Fuel Capacity: 18.5 gal
Seating: 3
Trailer:
Engine: Rotex 1630 ACE 230 hp
Wake Edition gives you added features for pulling riders and tubers. Lin Q retractble Ski Pylon, SKi modes for custom acceleration for towing, cruise control mode. The Larger swim plat for on the back makes it much easier for reboarding.

Many of our machines are equipped with is equipped with 100W waterproof Bluetooth audio system
This Sea Doo is a wake addition geared towards towing and pulling riders for wake skating wakeboarding or small pull tubes. With its supercharged Rotax 1630 ACE 230 hp Engine it produces impressive power and torque with great fuel economy.

The Hull on this Sea Doo is a little larger than standard PWC to create a more stable and predictable ride throug rough water.

Intelligent Brake and Reverse - The iBR system allows for more control braking sooner and reverse in the water for more worry-free Maneuvering.