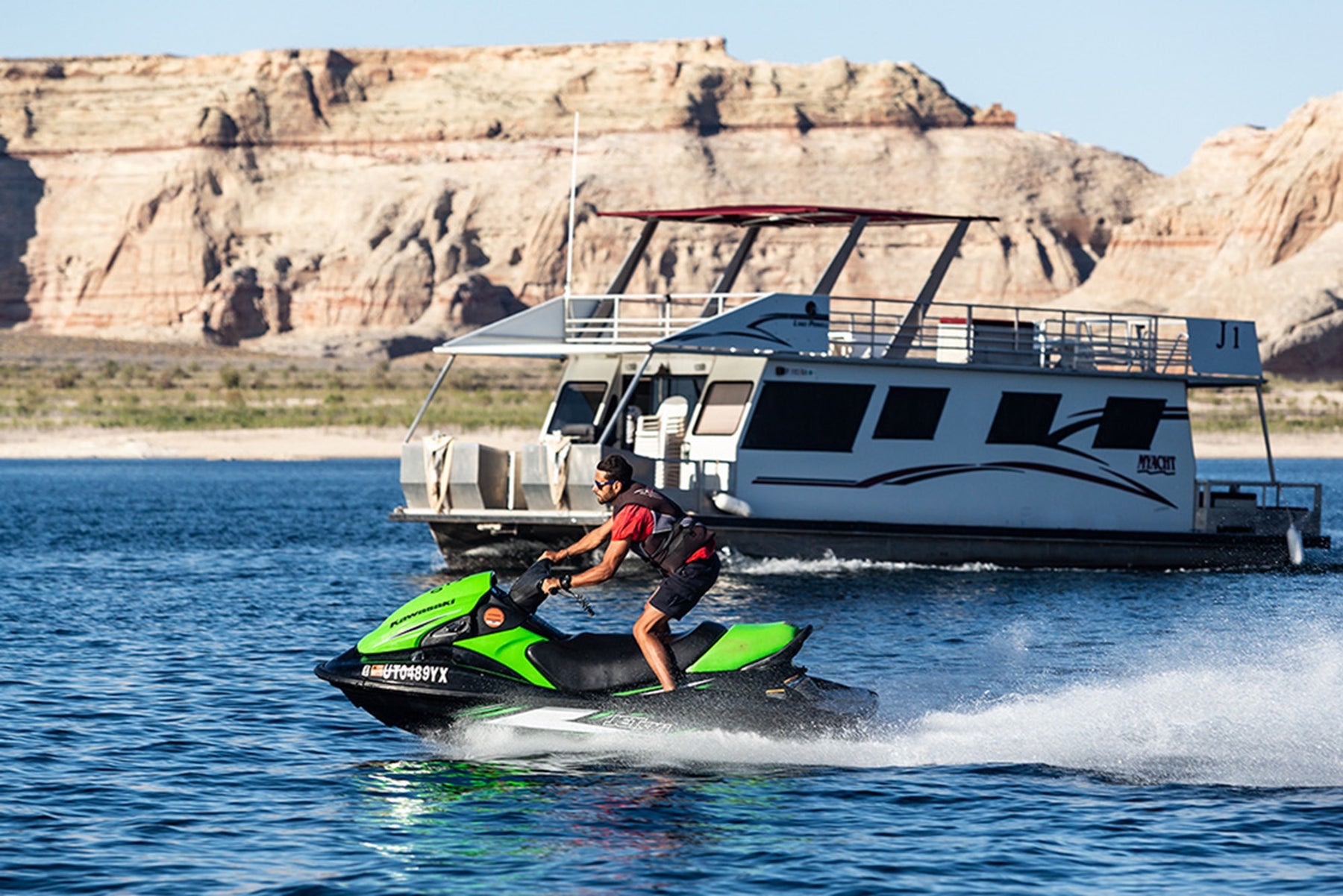 Lake Powell Water Wonderland
Lake Powell s is one of the nations premier vacation spots Wahweap and Antelope point the biggest marinas at Lake Powell and are located a few miles out of Page Arizona. Wahweap and Antelope point the biggest marinas at Lake Powell. Bullfrog Marina and Halls crossing marina are 95 mile up lake from the Glen Canyon Dam. Bullfrog is the gate way for boaters and visitors approaching from south-central Utah and Western Colorado.
Lake Powell, the second largest reservoir in North America, is 186 miles/299 kilometers long and has 1,960 miles/3058 kilometers of shoreline. Hundreds of side canyons, inlets and coves sheltering Indian ruins and natural wonders make Lake Powell a paradise for house boating, photography, and general exploring. Lake Powell offers some of the nation's finest fishing, for striped bass, smallmouth bass, largemouth bass, walleye, catfish, crappie and northern pike. ) Other recreational activities include boating, water skiing, wake boarding, scuba diving and swimming.
Lake Powell vacationaer plan there outdoor adventures starting in the spring and will go as late October sometimes even November. The air before March to may is warm but he water is still warming up and a wet suit could be needed. Regular season the water temperatures are 70-83 degress.
Fishing at Lake Powel is fishing desination of choice for many avid fisherman. The lake has smallmouth bass, largemouth bass, stripped bass, walleye, channel catfish, crappe and bluegill.
Lodging for Lake Powell
If you are at the southern part of the lake then the Lake Powell Resort is the place to stay. If your at the Norhern part of the lake at the Bullfrog Marina stay at the Difiance House Lodge. If you want that Home-away-from-home than you have to try the Family Units at Bullfrog Marina & Halls Crossing Marina.
Lake Powell RV Parks and Campgounds
Goplay at Lake Powell and stay at one of the RV parks or campgrounds. Each site is surrounded by the best scenery in west show casing spactacular views of Lake Powell. Own your own trailer, motor home or RV there is a site for you. If you are a tent camper great we have campsites, food and views.
Boat Charters, Tours, Dinner Cruise
One of the best ways to see what Lake Powell has to offer is on board a guided boat tour available at Wahweap Marina at the Lake Powell Resort. Spend a romantic evening on a sunset dinner cruise and learn about Glen Canyon dam and how it was built. Tours Available:
Rainbow Bridge Boat Tour

Cayon Princess Dinner Cruise

Canyon Adventures Boat Tour

Antelope Canyon Boat Tour

Watersports VIP Rental Charters
TK watersports now offering our services in helping you plan your best vacation ever at lake powell, with world class wakeboard surf boat rentals, Sea Doo's, watersports equipment or fishing boats. 
Personal Watercraft Wake addtions, and fish Pro 170