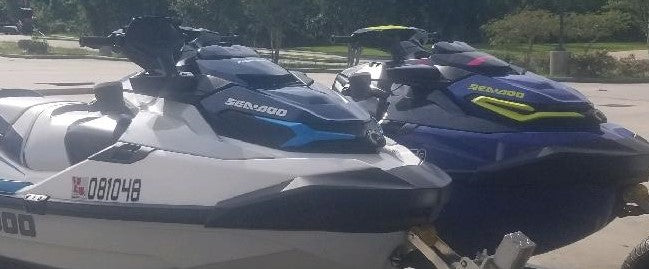 Jet Ski - PWC Safety | Operation | Rent and be safe
JET SKI RENTALS

 

- WAVERUNNER RENTALS
PWC Safety |Operation | Addtional Info:

 

At TK Watersports we take pride in offering the best in personal watercraft and providing the tools to have a safe enjoyable time on the water. You must be 21 or older to rent a machine and have a cedit card for rental and deposit. In oder to operate the machine you must be 18 or older with a valid driveres Lisence. Drivers younger than 18 can operate if they have a drivers license and msut have a parent or legal guardian on board the machine at all time. Before renting renters should visit this link

 

pwcsafetyschool/com

 

and review all Boating & PWC laws in preperation for your trip.
Wear Approved PFD Jacket                               
Pay attention to No or Slow Wake Zones
Utah waverunnner & Jet Ski safety tips
Be safe and have fun on water:
Read Owners Manuel or get good operating instructions
Wear proper safety equipment or approved PFD Life Jacket
Attach a whistle to your life vest to summon help or allert other boat traffic
Never Operate PWC without a Lanyard attached to you. It cuts engine if you fall off
Keep a look out for other boats stay 100 ft aways from other vessels
Do not opperate if you have bee drinking
Know the waters you operating in so you can avoid weed,sandbars Rocks etc.
Most States require anyone under 16 to have a boater safety certificate or be operating with someone over the age of 18
Jumping wakes of other boaters is condsidered unsafe and will be ticketed by rangers and ticket is usually 500 or more depending on locations. Also can damage the machine that rider is responsible.
Personal Water Craft for pulling | Sea Doo Wake Pro Rentals
Personal Water Craft for Pulling - Operater should have a second person on board as observer, make sure rider has proper U.S. cost Guard approved (PFD), Be aware of your surroundings and any hazards such as rocks or shallow water or floating debre. Never tow a rider at night. 
More on Utah waverunners and jet ski opperation and regulations
Riding a personal watercraft is one of TK watersports most popular activites. Sometimes renting a boat is out of the budget and some people prefer the small water craft. A PWC or waverunner is a small vessel using an inboard engine powered by a water jet pumpo as it primary source of power. Most of the Personal water craft that we rent are rated for 3 riders and can pull a tube or wakeboarder. Did you know? PWC are subject to the same laws and requirements of any other boat plus a few laws specific to PWC.
Personal Watercraft Wake addtions, and fish Pro 170