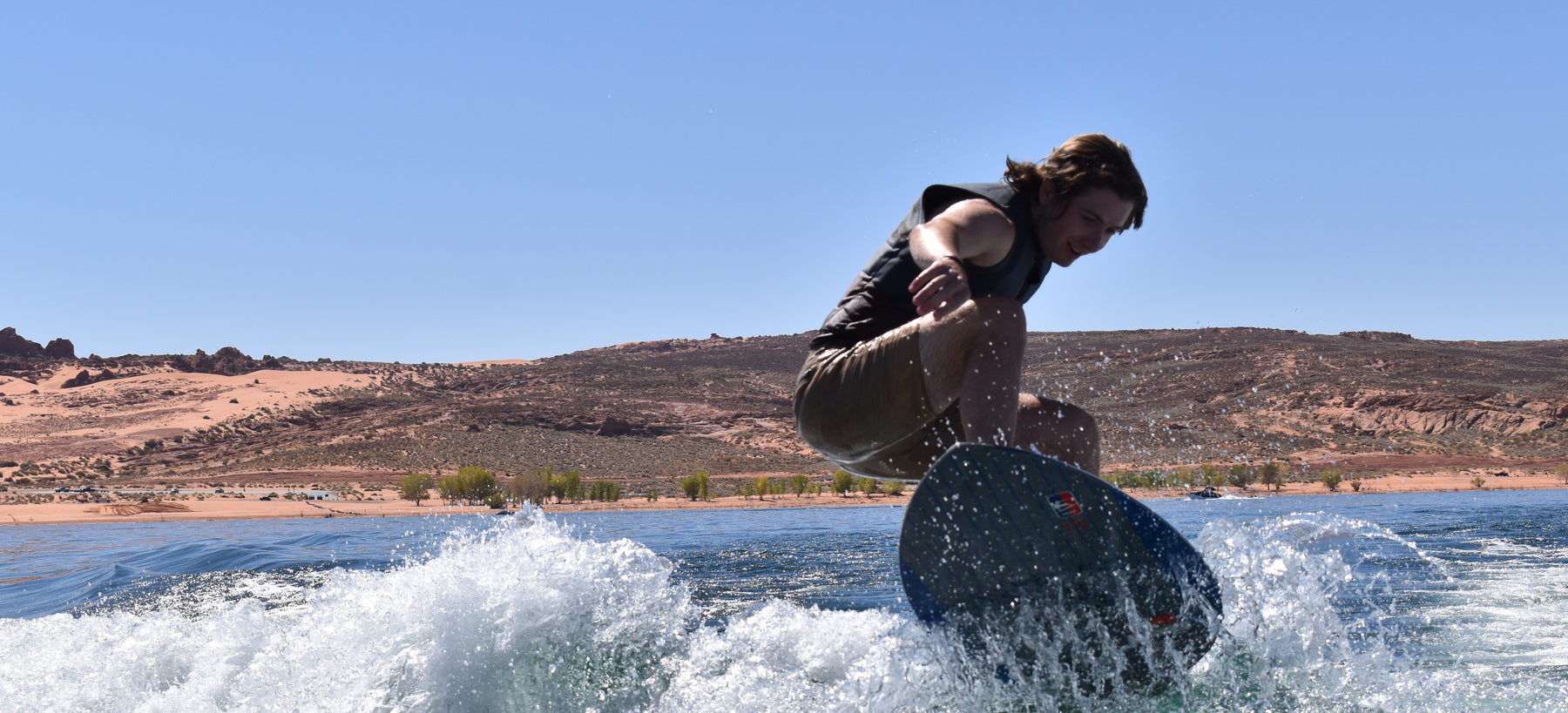 Wake Surfing 101
WAKESURFING

 

SURF AN ENDLESS WAVE
WakeSurf with TK Watersports:

 

TK Watersports continues to offer the best in wake surfing boats and equipment for rent. We also can help you learn how to set up your own boat to get the best surf wave possible see our boating courses. Full service wakesurf charters is an options to learn how to surf and set up for wake surfing.  We are you Wake Surfing connection.
Wakesurfing is low impact:
Wake surfing is great for old and Young alike, low impact and high on the fun. Wake surfing is easy to learn, easier than learning surf on the ocean. Now you don't have to live by the coast to be a surfer. Many ocean surfers find wake surfing great practice for catching those big ocean waves and learn agility and balance. Low-impact Sport, unlike wakeboarding or water skiing wake surfing is a low impact sport meaning the falls cause less stress and damage to your body since the boat is only going 9-12 miles per hours. 
 Catch the Wave Wakesurfing
Imagine riding a wave on a surf board that never quits, a never ending wave making this a very unique and intriguing way to surf. There are two basic styles of wakesurfing, skim style and surf style. The skim style boards are built for more spins and riders usually like a less steep wave with a pocket at  the end that pushes you forward at the end of a trick. Surf Style riders like a more steep, tall, powerful wave.
Skim Style Wake boards - have thiner profiles and has less overall volume and fins are very small sits lower in the water and easier for spinning. Skim boards are built flater with very little rocker. Many of the tricks are centured around spins shov-its and airs. There are a lot of boards that are a combination skimboard and surf style board.
Surf Style Boards - resembles more of a ocean surf board and usually has more and larger fins for added grip allowing for more aggresive turns and lift for airial moves. These larger fins do make it more challenging  for some of the spin tricks but are great for slashing the wave.
With todays wake enhancement features most boats with a few tweaks and adjustments can create a wake for both skim and surf in little time.
Creating the Wave: The boat and how it is weighted is key in creating a great wave. Wake surfing should only be done off an inboard style boat. Do not try wake surfing on out board boats or inboard/outboard style boats. Some boats are better than others and each boat has a lot of variables that can be fine tunes to create the best possible wave. Most boats create a better wave on the left side due to the prop rotation, this being more true with older boats. This gives an advantage to regular footed surfers. You can surf on either side of the boat and some boats have features to support both goofy footed and regular foot riders.
Boat Set Up:
Old School
Weight the boat on the side you are going to be surfing on, empty most of ballast you have on the opposite side and put all people in the boat in the corner and side you surfing on. The boat will be tipped or floating lopsided. Setting up old school can usually create a wave when some of the enhancement features are not working on your new boat or if your boat is an older model.
 Boat Set Up for Newer wakesurf boats: Most of the newer boats now have a more advanced surf system using ballast, surf gates, wedges or surf plate and trim tabs to create and shape the wake. On the Centurion boats your ballast systmes usually combine a quick fill systm fill the majority of ballast and then topping off with plug and plays bags on sides and front of the boat. All the ballast is filled on both sides and then surf plates used to create the wave.
Clean up the wave:
Try to achieve a clean wave like the ocean with little whitewash but creating curl at the top of the wave. If you have a wakeplate, surf plate or wedge  this is what you adjust until the shape looks just rite for your rider. You speed should be between 10-12 mph.
TK Watersports is your wake surf specialist
We have been helping people catch the wave since before wakesurfing became the big thing in watersports. When you take a group of people to the water for a day of fun they want to try eveything but after they start wake surfing thats what they want to spend most of the time doing. Its low impack, more people can be involve and you closer to the back of the boat for the great tunes.
Centurion users for 16 plus years - We have been centurion heavy on our inventory because they have been in front of the pack in developing features for surfing. If you haven't ever been in a Centurion boats with wake enhancement features, then you are seriously missing out.  With just the press of a button you can change from one rider to the next even if you are going from a goofy to regular rider. Setting up the boat for surfing now is much easier than before with most of the ballast being put in with quick fill systems. What more could you ask for. TK WATERSPORTS will help you get up and catch the wave for the first time or help you get to the next level. Nothing moves you forward like time on the water.
Personal Watercraft Wake addtions, and fish Pro 170